A diverse team with something in common: the French speakers at UEX share a French nationality and a passion on Asia.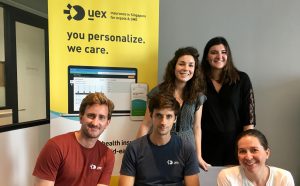 Gregoire first graduated from the Lycee Francais of Singapore, before graduating from the Skema Lille Business School in 2009. He began his career in the insurance industry, as a project manager within the Verspieren Group, which has became the majority investor of UEX in 2016. Since then, it is with great passion that Gregoire manages UEX.
Clement crossed his path with Gregory as his high school mate, and the two quickly became best friends ever since. He graduated from Telecom Paris in 2007. He began his career as an engineer in large groups, such as Total, then later joined the UEX adventure in 2016 to lead operations.
Marion left France for China as part of her studies at NEOMA Business School for 3 years. After she graduated in 2015, she moved to Singapore and began her professional life at UEX.
Charlotte, a graduate of AgroParisTech School in 2009 and a top triathlete, arrived in Singapore in 2017 after 4 years in Hong Kong. At UEX, she is in charge of marketing.
Jeanne and Jean-Baptiste are students from emlyon business school, joined the team as interns as part of their professional experience.
UEX has strong French team, consisting of expat ', as you ... But not only!
We will be happy to answer all your questions and to assist you to personalize your insurance for each member of your family, so that it is the most adapted to your needs and your wishes.
To learn more about the story of UEX, see Gregoire's interview.

To find out more about healthcare topics in Singapore you can check our articles. To understand, how your health insurance plans cover healthcare costs, you can approach UEX's happiness team by email or by phone for more information and guidance - and the good news is that they are super nice!

With UEX, you can obtain a quote for a health insurance contract customized to your needs and requirements - all in less than a minute!



December 2017