[vc_row][vc_column][vc_column_text]
Employee benefit management made easy for SMEs: simple, fast and a la carte healthcare plans to protect your employees



We have all been there: administrative processes for employee benefits management are way too time consuming. They don't leave you the time for the really important aspect you love in your job: your employees and business.

The UEX SME health insurance platform allows you not only to subscribe your team to a personalized health insurance plan 100% online, but also to facilitate the whole administrative process for you.


We are like you

At UEX, we care for our community. As a Singapore-based SME, with both Singaporeans and expats in the team, we experience the same everyday challenges in managing employee benefits like you. That is why the UEX SME team is there to help you protect your team, and offer them an efficient health insurance.


You are an HR? Create personalized plans 100% online for your team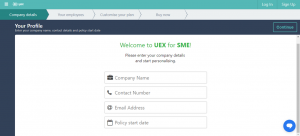 UEX SME health insurance platform helps ease HRs everyday life: Our platform is simple, easy to understand and more importantly easy to use - for HRs caring for their team. The onboarding only takes you a few minutes, as well as the subscription!


Build employee groups and personalize the coverage types according to their needs, profiles and roles.

No need to wait for your quotes or to fill-in paper documents! Senior, junior, sportive etc.: you are the one who knows your team best. Choose the coverage they really need in a few clicks! If you have any questions, for example about the coverage details, our SME team is there to support and help you finalise your plans.

This allows you to choose the most optimised coverage for your team, while flexibly managing your budget.



Example: You can create staff and management groups, differentiating between those who need an international travel cover or a family coverage to provide full protection in all life situations.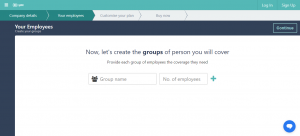 Get your real-time final quotation in a few clicks

There is no need for you to wait: with the UEX SME platform you get your quotes real-time. Our platform only shows you the final price - no hidden fees and fully transparent for you and your team!


Let us onboard your employees and answer all coverage questions

We provide onboarding programs for our new clients. Then, once a year, a refresher training will be provided for all your employees with a UEX membership. Transparency and comprehension are key: we are there for you to answer all your employees questions about their coverage and the claim process.


Manage staff movements fast and conveniently

Your team is growing? Congratulations! No need to send us any paper documents: you can simply add or remove employees to and from your list, and update your balance automatically after each staff movement.


Don't lose time: easy and straightforward invoicing and accounting system

No complicated invoicing process: get your PDF invoices, automatically generated by our platform's integrated invoicing system.

Our Customer Care team is also available to support you after your subscription. We will be your direct point of contact for all inquiries.


You personalize, We care. 100% online but human first

No need to be an insurance expert, we are there for you! Our team is available via chat, phone calls or email to answer all your questions. We will help you create your coverage plans and will also be there for you once you have created your account.



Please feel free to ask for a face to face meeting, we are happy to explain you everything in detail.



#wecare


Get a quote

Tell us what you are looking for, send us your details and we will contact you to finalize your coverage.



To find out more about healthcare topics for your company and your employees in Singapore, you can check out our articles.



To understand how your employees health insurance plans cover their healthcare, costs and how you can cover your business, feel free to contact the UEX team by email or by phone. We will provide you with more information and guidance - and the good news is that they are super nice!

With UEX, you can obtain a quote for your employees health insurance contract or your business insurance customized to your needs and requirements - all in less than a minute![/vc_column_text][/vc_column][/vc_row]