You have just finished a consultation at a General Practitioner or at the Specialist and you need to get reimbursement for your healthcare? What could you do to make the reimbursement of your claim to be as fast as possible? Here are a few tips and to-do's to follow for your reimbursement to be a smooth as possible!
What is a claim?

It is a formal demand made to an insurance company for reimbursement, for a loss that comes within that policy. For example, for a hospitalisation stay, a GP visit, etc. For the reimbursement, you must make your claim within 30 days of your healthcare.
How to make a claim?

To make a claim via AXA, here are some of the essential steps:


Connect to the AXA platform:


Go to the AXA website https://www.myaxahealth.com/.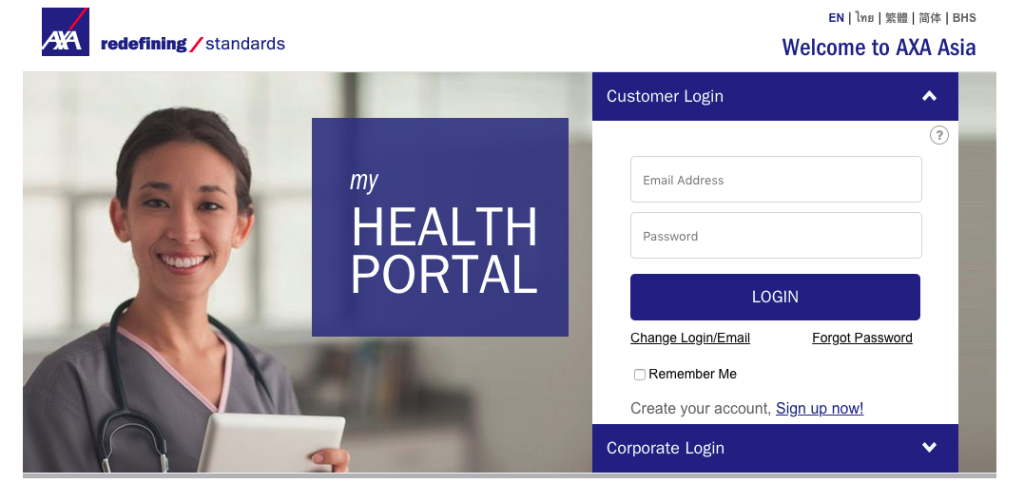 You can also download their mobile app:



Access directly to the "My claims" tab


On your computer, you can access directly to the tab " My claims" and then " Make a claim". On the mobile app, you can access it directly in the menu. Therefore, you will be able to make your claims in this tab.





Fill in the questionnaire


Click on "Skip the claim submission" and fill in the questionnaire. For more information on this survey, AXA has published a document that clearly explains all of the steps. Please fill in the questionnaire carefully and don't forget some important details.

In the part "Treatment details", do not forget to fill in the "Diagnosis" part. You need to indicate the reasons that brought you to see this doctor. For example: cough, running nose etc... Indeed, if you don't fill that correctly, your insurance company will decline your claim. In that case, you will need to enter further information. However, this will have an impact on the reimbursement time of your claim.


Don't forget to click on "Submit"


Your claim will be taken into account only once you have accepted the terms and conditions. In order to do that, you need to tick the declaration checkbox and click on the "Submit" button.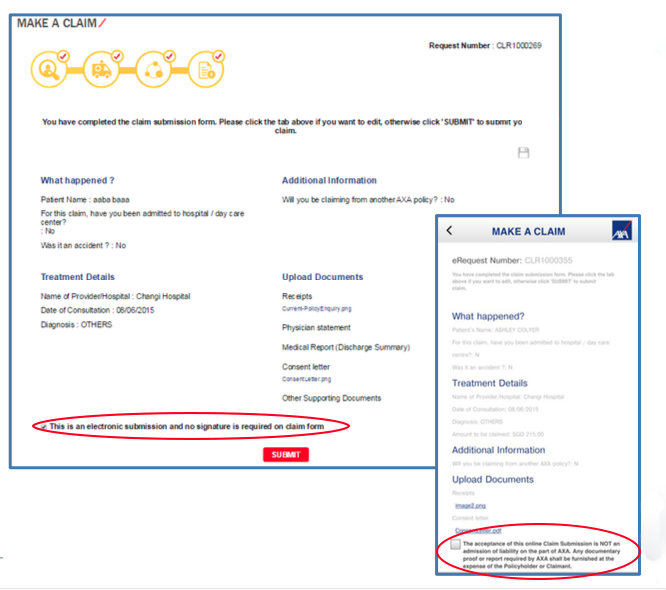 AXA will deal then deal with claim. Do not hesitate to login in to your My AXA Health account on the tab " Track my claims" to check on the progress of your claim. Concerning the average deadline for your claim, it will take at least 15 days to have the decision of the Claim Handler on your application. You then need to count at least 10 days to be reimbursed.

For the Base Plan 1 et 2, the reimbursement will be done by cheque. Don't forget to check regularly your mailbox once you receive the confirmation that your claim is accepted. For Base Plan 3 and 4, you can choose the means of reimbursement. If you choose to be reimbursement to be done by bank transfer, it should appear directly on your bank account.

If you need more informations, you can check this step by step guide edited by AXA.
A few tips from UEX

We know it can be quite tricky to claim! In that case, UEX has written a few tips to make it a bit easier:


Don't forget to add your diagnostic


More than 50% of the claims that are pending are linked to the oblivion of the "diagnostic". It is important to fill in that box in order to clearly explain the reason of your consultation.


Scan your invoice correctly


With the AXA application, you can take a photo of your invoice in order to included it in your claim. Check that the photo is clear enough. Indeed, an image been not clear enough is one of the main reasons for a claim to be denied.


Benefit from the direct-billing


There exists a way to avoid claiming after a doctor's appointment. AXA has a panel of doctors that gives you the opportunity to avoid claiming. Indeed, if you go see one of these doctors, you will not need to claim your expenses. For the Base Plan 1 and 2, this panel is only composed of general practitioners. However, for the Base Plan 3 and 4, this panel is made up of general practitioners and specialists. Find out more by reading our article on the subject.


Ask your insurance company to issue an LOG (Letter of Guarantee)


In the event of a hospitalization or an accident , ask your insurance company to issue an LOG. A LOG is a guarantee of payment between a hospital and an insurance company. It is pre-autorisation of the insurance company and allows you to benefit from "direct billing". It allows you not having to advance the expenses in case of an admission at the hospital. Check out our article about LOG to find out more.





Don't forget to check your emails


If you receive a mail from your insurance company, don't ignore them! They might just be sending you a mail to ask for further information on your recent claim.


Check your insurance coverage


Check your insurance coverage and your annual limit. If you have already exceeded your limit, your claim will be denied. Likewise, if you claim a healthcare that is not included in your contract, you will not be covered. For example, dental care or even optical care. The information concerning your health insurance contract are available on the My AXA Health on the "Policy Enquiry". You can also find all of these information on your member account.


Think to include a letter of referral


With the Base Plan 1 and 2, you need a letter of referral from your General Practitioner to be reimbursed of a consultation at your Specialist. Check that you have correctly included the letter of referral in your claim.


Be careful with your pre-existing conditions


Most of the insurance companies do not cover pre-existing conditions. If you are getting treated for the latter, you will not be able to claim.





Always keep your original documents and receipts


Keep your original documents and receipts during 3 months after your consultation or any healthcare, just in case. Your insurance company might need them to handle your claim.

You now know everything for your future claims. If you follow these few tips, everything should be just fine! However, even after following all of our tips, you still face some difficulties, please contact us at claims@uexglobal.com.

To find out more about healthcare topics in Singapore you can check our articles. To understand, how your health insurance plans cover healthcare costs, you can approach UEX's happiness team by email or by phone for more information and guidance - and the good news is that they are super nice!

With UEX, you can obtain a quote for a health insurance contract customized to your needs and requirements - all in less than a minute!