"It's The Most Wonderful Time Of The Year!"

With the Christmas decorations start growing on the streets and shopping malls, and all holiday greetings and celebrations coming, New Year's resolutions are starting to tickle your mind.

Tackling the traditional New Year's checklist might not be the most exciting to do, but New Year is the new beginning!

With many things we would like to improve in our lifestyle, daily routine and organization. Being better organized with admin tasks like renewals of memberships and subscriptions, do not excite us. For most of us, we rather sing a holiday tune with a glass of champagne over delicious holiday delights, than to renewal of our health insurance plan.

Can we blame you? First, trying to understand clearly the policy of the health insurance contract can be tricky.

Then, getting a concrete quote from your insurer or broker can be time consuming, with many back and forth exchanges and sometimes physical meetings, needless to mention all the paperwork that follows! Pour me another drink please!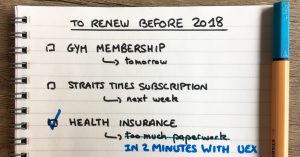 With UEX, you can obtain a quote for your health insurance plan customized to your needs and requirements, with optimized prices - all in less than a minute! Alternatively, you can send a copy of your current health plan to UEX's happiness team for comparison and advices.

UEX tries to make health insurance - and therefore your life - simpler.

Let's create your user profile with our form at the end of the article, personalize your health insurance, and get an instant quote, get everything done online. Health insurance subscription and renewal is just that much simpler and easier to tick off your New Year's list this year!

To find out more about healthcare topics in Singapore you can check our articles. To understand, how your health insurance plans cover healthcare costs, you can approach UEX's happiness team by email or by phone for more information and guidance - and the good news is that they are super nice!

With UEX, you can obtain a quote for a health insurance contract customized to your needs and requirements - all in less than a minute!

- November 2017