Knowing what health insurance you need the most is not that easy. What type of coverage? For which reasons? What reimbursement limits? Does my current health insurance cover me well enough or do I need to top-up?

To help you get a clearer idea to discover this infographic that will help you quickly identify which health insurance coverage best fits your needs.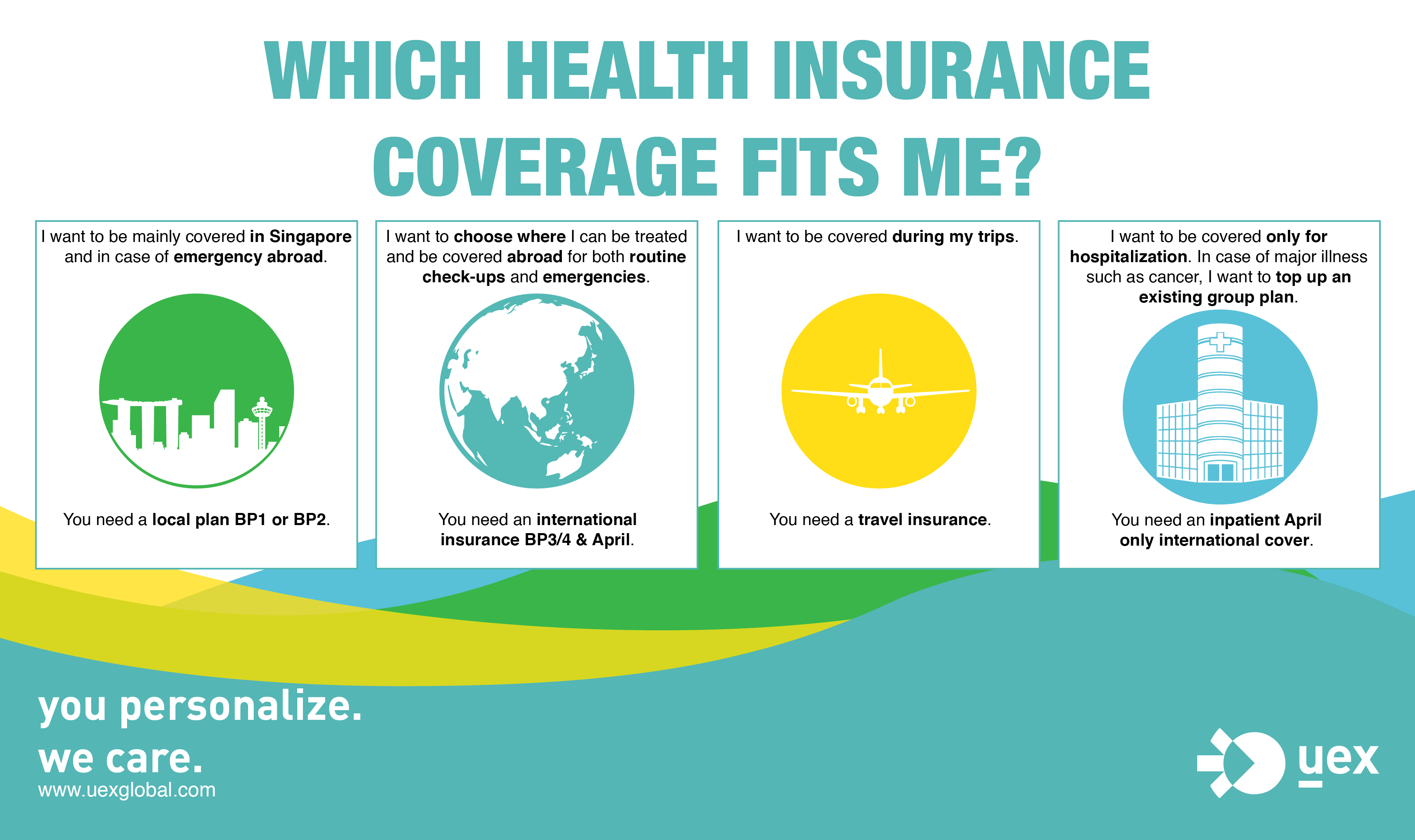 You want to be mainly covered in Singapore and for emergencies abroad?
You will need a local plan Base Plan 1 (BP1) or BP2.

With this type of coverage, you are mainly covered in Singapore for medical consultations and hospitalizations. However, the reimbursement limit for outpatient healthcare is usually low. But it could be sufficient.

With the local plans, you will still be covered during any trips outside of Singapore for emergency repatriation or evacuation in case of any serious accidents abroad.

The main difference between local plan BP1 and BP2 is the reimbursement limits for hospitalization and specialist care. If you are covered with a local plan BP1 your annual limit is about S$250,000. With a local plan BP2 it's S$500,000.

You can subscribe to a local BP1 or BP2 plan on our online platform.


You want to choose where you can get your treatment, or be covered abroad for both routine check-ups and emergencies?
If it's the case, then it's the international plan BP3 or BP4 and APRIL plan that better fit you.

The international plan covered you both in Singapore and abroad for general and specialist consultations and hospitalizations.

This coverage is also useful when you live abroad and need to access to healthcare services in Singapore.

Moreover, with the international plan, you don't need a referral letter from your general practitioner to see a specialist. You can consult a specialist directly and get the reimbursement for both panel and non-panel ones. In addition, you can also benefit the cashless option for both general practitioner and specialist consultations from the panel.

Another advantage of the international plan is the portability of your insurance contract. In case of relocation, you can still maintain your coverage and transfer it to your new country of residence. Therefore, there is no need to re-declare your pre-existing conditions.

You can subscribe to an international plan BP3 or BP4 via our online platform.


Do you want to be covered during your trips?
In this case, you need travel insurance.

If you subscribe to travel insurance, it will cover your medical expenses overseas. Not only in the case of an emergency and repatriation but also for other non-medical emergencies. It also covers you for travel inconveniences and ensures your personal belongings for your trip. For example, it covers you for flight delays, loss of luggage, credit card frauds, etc. It will also cover some sports as scuba diving.

There are two different ways you can purchase travel insurance:
Purchase an annual cover for multi-trip within the year.

With UEX, you can buy an annual travel insurance option directly when subscribing to your health insurance contract. You can also purchase it independently from your health insurance with AXA SmartTraveler.
Purchase a temporary coverage before your holidays.
You can purchase a single trip coverage right before you start your trip. It could be a good option if you are not traveling that often.

Check out what do you need to know about travel insurance and AXA SmartTraveler to find out more.


Do you want to be covered only for hospitalization? In case of a major illness such as cancer, you want to top up an existing group plan?
You need an Inpatient APRIL only coverage.

If you wish to be covered only for hospitalizations or critical illnesses, APRIL inpatient only insurance is the one that best suits your needs. Although hospitalization happens less often, it is the most serious and costly risk.
If you already have health insurance, you can also choose to top-up your existing coverage to have higher reimbursement limits and better coverage.

You can subscribe to an Inpatient APRIL only or top up your existing group plan directly via our platform.


To find out more about healthcare topics in Singapore you can check our articles. To understand how your health insurance plans cover the healthcare costs, you can approach UEX's happiness team by email for more information and guidance – and the good news is that they are super nice!
With UEX, you can obtain a quote for both AXA and APRIL health insurance contracts customized to your needs and requirements – all in less than a minute!