In 2018, almost 2 million people were diagnosed with Breast Cancer - it's one of the most widespread cancers in women.

Like most cancers, it is characterized by the abnormal growth of cells and development of cancerous tumors in the breast.

Luckily, it's curable as long as it's treated at an early stage.

To learn about ways to prevent and detect breast cancer, you can check out our articles on Breast Cancer Awareness and Healthcare Screening for Women in Singapore.
Cost of Preventive Tests
Singapore is one of the most expensive countries in the world, and the cost of medical treatment can soar to great heights if you don't have a good insurance plan that can protect you from overwhelming medical costs!
The costs associated with testing are summarized in the following table: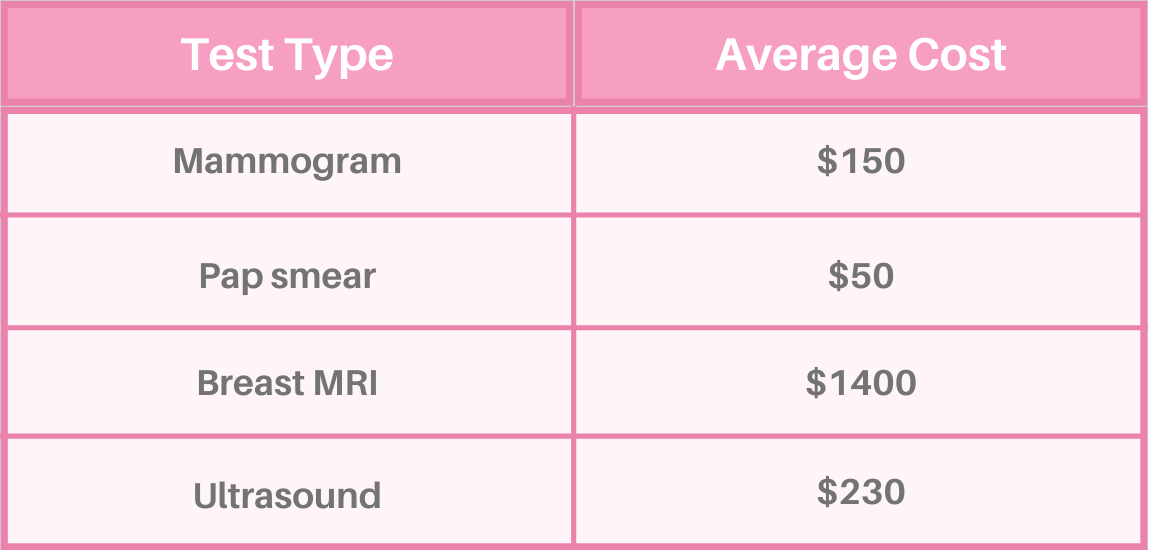 If a lump is found during these tests, it has to be inspected further to see if the tumor is benign or malignant. A biopsy starts from $ 2092 at a public hospital and can go even higher at private institutions.
Cost of Treatments
If the tumor is found to be malignant, the doctor may recommend any of the following treatments or maybe a combination of these.:
Radiotherapy makes use of high-energy x-rays or gamma rays to kill or damage cancer cells, whereas Chemotherapy uses chemical substances - most commonly as an infusion into the vein or in capsule forms. Several cycles of Chemotherapy are required to fully rid your body of cancer.
Besides this patients might have to go for surgical treatments like a Lumpectomy or Mastectomy, which are procedures to remove cancerous cells and one or both breasts, partially or completely, respectively.
Other Related Costs
1. Breast Reconstruction
It might take place during or soon after a mastectomy, and in some cases, lumpectomy. Since it is not a mandatory surgery, patients may choose to go through it much after their surgeries. During reconstruction, a plastic surgeon creates a breast shape using an artificial implant and attaches it to the patient's chest. Such surgeries are often performed by private practitioners so they can cost around $ 12,888.
2. Counseling or Therapy
It is natural for cancer survivors to feel anxious or detached after going through painful and daunting procedures like the ones mentioned above. Thus, seeking counseling can be helpful in easing them back into their old lifestyle.
Where To Go For Tests And Treatment
Singapore offers quality service in private and public hospitals; you may consider the following options that provide designated packages for women screenings and treatment.
Public Institutes:
Singapore General Hospital
Private Institutes:
You can refer to our article for full details about Hospitals in Singapore and How to choose between public and private hospitals .
How UEX Can Help covering your screenings and treatments.
Screenings -> UEX, with April plans, offers flexible health plans that cover your preventive health check-ups.
The most important health examinations for women is Mammography and Pap Smear. This is why April, listening to its customers, has included these examinations in its health plans for women aged 40 and above and women aged 19 and above, respectively.
When you subscribe to:
- "Hospitalization and surgery only" (inpatient) : April has specifically included the mammography and pap smear screenings, covered up to $ 300 (for all Levels, 1, 2 and 3)
- "Hospitalization and surgery" + Routine care health insurance ( outpatient): mammography and pap smear are covered up to $ 300 for Level 1, $ 500 for Level 2 and fully covered for Level 3.
Treatments -> When breast cancer is confirmed by a diagnostic, all treatment costs including specialist consultations, diagnostic scans and tests, medicine and drugs, chemotherapy and radiotherapy will be fully covered under your "Hospital and Surgery" module.
------
To find out more about healthcare topics in Singapore you can check our articles.
Our UEX team remains available by email at hello@uexglobal.com. We would be happy to answer your question and to help you through your insurance personalization process for each member of your family, so that it suits your needs at best.
You can obtain a quote for both AXA and APRIL health insurance contracts customized to your needs and requirements – all in less than a minute! Or click here to compare both as you personalize your plan.