"Best place for expats to live and work", "5th highest for salaries"... Singapore seems like the land of opportunities for expats. Is it the place you are going to choose to launch your dream company? Once you land a foot in Singapore, you'll see that everything is made to make your adventure as an expat entrepreneur easier. What are the key elements to consider when launching a company in Singapore as an expat?


Singapore has a pro-business approach, even for expats

Entrepreneurs of the world, rest assured: registering a business in Singapore as an expat is pretty simple. The Singaporean authorities made it free of red-tape! Say goodbye to high tax rates of your native lands: the current corporate income tax rate in Singapore is between 8.5% and 17% -- lower than in many other countries.

In order to maximize tax benefits, you'll have to identify which business structure is the most adapted to you. The preferred business structure by entrepreneurs in Singapore is the Private Limited Company (Pte Ltd).

The Privated Limited structure:


Has a distinct legal identity
Limits the liability of the shareholders to their investment
Enables foreigners to own 100% of their shares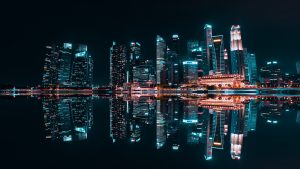 Basic rules to launch your company as an expat

Singapore wouldn't be such a nice place to live in without its rules. First things first! As a foreigner, you'll need a work visa from the Ministry of Manpower (MOM): Employment Pass or EntrePass.

The Employment Pass can be processed only after the incorporation of the company. You'll need a minimum of 1 shareholder, 1 resident director, 1 company secretary, and a local registered office address. You'll also need paid-up initial capital of minimum 1 SGD. Affordable. However, the applicant must already have received a job offer in Singapore, and must earn a fixed monthly salary of 3 600 SGD at least.

On the other hand, the EntrePass can be processed before starting the company registration procedure or during half a year after the company was registered. Would you wish to participate in the company's creation from its very first steps and get full power in running it, it would be the only option. However, you'll need your company to have investments for no less than 100 000 SGD from "angels" or venture capitalists, and an innovation-oriented business plan. You'll also have to be the owner of at least 30% of the shares. Obtaining the EntrePass is pretty challenging even for very successful entrepreneurs.

The process of company incorporation will be carried out online on the website of ACRA -- The Accounting and Corporate Regulatory Authority. Convenient, right?


Health insurance as an expat

Expats moving to Singapore are not able to join Singapore's MediSave medical care program. In order to attract and retain the best talents, companies will often offer health insurance to their employees.

In order to gain time, you can use an online health insurance. At UEX, we provide an easy, fast and 100% online health insurance for individuals and SMEs. Onboard your company in less than 3 minutes on our SME platform that enables you to manage your staff movement yourself. You can then personalize your coverage plans online according to your employees' needs. Get a real-time quote and finalize your company's health insurance in a few clicks!


The importance of networking

Networking is an essential part of Singapore's business culture! Many associations and clubs already exist to help with this. If you don't know which networking group to go to at first, maybe you could try your native country's chamber of commerce to begin with. Participate to networking events, and don't forget the importance of social media in terms of networking.

Especially in Singapore, the expat community is really developed. A lot of expat communities already exist: feel free to join their events and to meet other expats!



All set! You're ready to launch your company in Singapore. Our Little Red Dot strives to be the top business hub in Asia: are you going to be the next entrepreneur success story?



To find out more about healthcare topics for your company and your employees in Singapore, you can check out our articles.

To understand how your employees health insurance plans cover their healthcare, costs and how you can cover your business, feel free to contact the UEX team by email or by phone. We will provide you with more information and guidance - and the good news is that they are super nice!

With UEX, you can obtain a quote for your employees health insurance contract or your business insurance customized to your needs and requirements - all in less than a minute!