What to do in case of emergency in Singapore?

The emergency contact number in Singapore is: 995. Singapore Civil Defence Force (SCDF) officers at the 995 Call Centre are supported by paramedics and staff nurses who are trained to prioritize your cases, deploy the appropriate resources and provide medical advice.

In case of an emergency, call 995 and do the following:


Give a clear description of the nature of the emergency
Give your name, telephone number and the location of the emergency
Stay on the phone; do not hang up


When you call 995 for medical assistance, SCDF will assess the severity of your case and respond according to the Emergency Medical Service (EMS) response framework as follows:
Life-threatening emergencies

For example: cardiac arrest, unconciousness, breathlessness, active seizure, major trauma ans stroke.

Reponse:


Emergencies

For example: Severe allergy, emergency labour, head injury, bone fracture, asthma, elderly with chronic medical conditions and sick children.

Response:


Minor emergencies

For example: cut with bleeding, accident with bruising, swelling, mild injury and persistent fever.

Response:


In 2016, SCDF attended to 42,579 minor emergency cases (23.9% of total ambulance calls)
Non-emergencies

For example: Constipation, chronic cough, diarrhoea and skin rash.

Response:


Emergency medical assistance not required
Seek treatment at clinics or call 1777
In 2016, SCDF attended to 11,154 non-emergency cases (6.3% of total ambulance calls)

If you have to remember one emergency contact in Singapore it is 995.

Here is a list of some other emergency contact and non-emergency contact.

Emergency Lines
Emergency Ambulance: 995
Police: 999
Police Hotline: 1800 255 0000
Traffic Police: 6547 1818

Ambulance
Non-Emergency Ambulance: 1777

Government Hospitals with Accident & Emergency Service
National University Hospital: 6772 5000
KK Women's and Children's Hospital: 6293 4044
Singapore General Hospital: 6321 4103
Tan Tock Seng Hospital C: 6357 8777

Private Hospitals with Accident & Emergency Service
East Shore Hospital: 6344 7588
Gleneagles Hospital: 6470 5688 / 6470 5700
Mount Alvernia Hospital: 6347 6210
Mount Elizabeth Hospital: 6731 2218/19/59
Raffles Hospital: 6311 1555
Thomson Medical Center: 6350 8812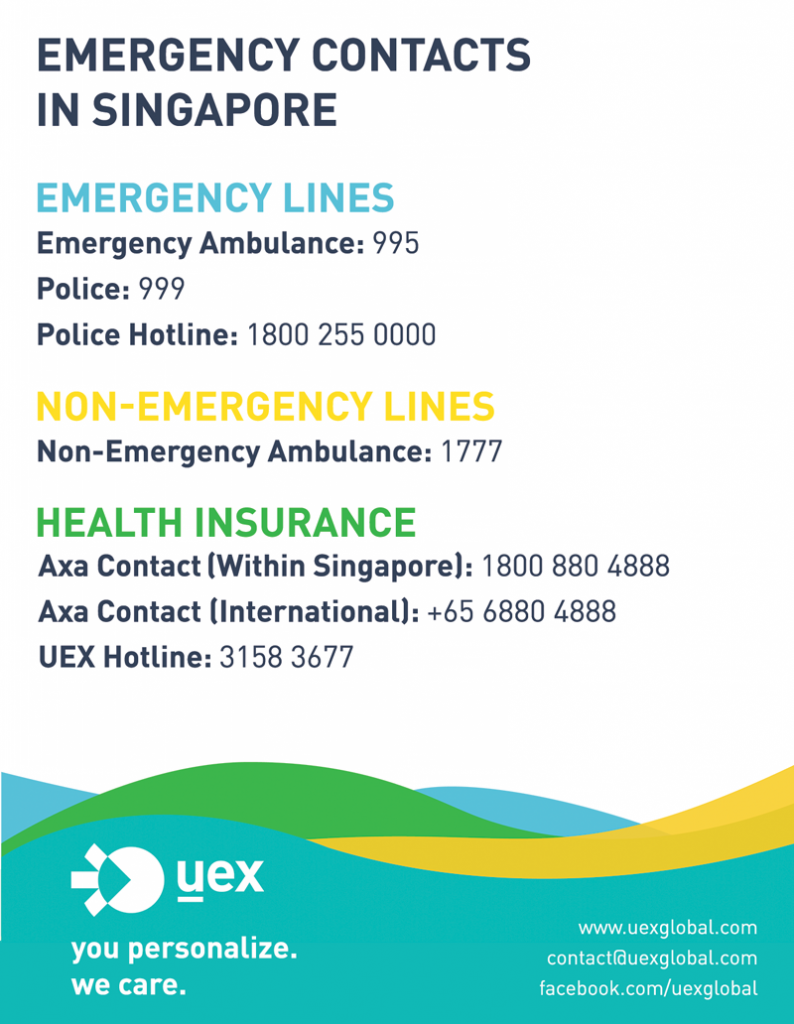 To find out more about healthcare topics in Singapore you can check our articles. To understand, how your health insurance plans cover healthcare costs, you can approach UEX's happiness team by email or by phone for more information and guidance - and the good news is that they are super nice!

With UEX, you can obtain a quote for a health insurance contract customized to your needs and requirements - all in less than a minute!